Phone numbers to call to ask Governor Edwards to act now on shutting down abortion facilities during the pandemic:
(225) 342-0991
(225) 342-7015
(866) 366 1121
Guest: Christopher Arps of Project 21 discussing U.S. Surgeon General's remarks … more here … and also integrity in the voting process
Louisiana Presidential Primaries to be delayed
President Obama endorses Joe Biden … Trump campaign responds
Louisiana AG Jeff Landry launches task force
Legal concerns for businesses reopening amidst pandemic
Dr. Fauci walks back comments on hypothetical question … reporter asks if he is held hostage by President Trump … NY Times slams President Trump … with fake news
Tomorrow (04/15/20) both the House and Senate Government committees will be holding hearings regarding voting for the Presidential primaries. They are taking public comment via email. Also, is not clear how this would be voted on in the full House and Senate. Not sure if they would have to vote in person or from a distance presumably without any debate.
The proposed plan will allow mail in ballots for a large variety of reasons related to the corona virus.
This is supported by radical left wing groups which aim to allow mail in voting for any reason: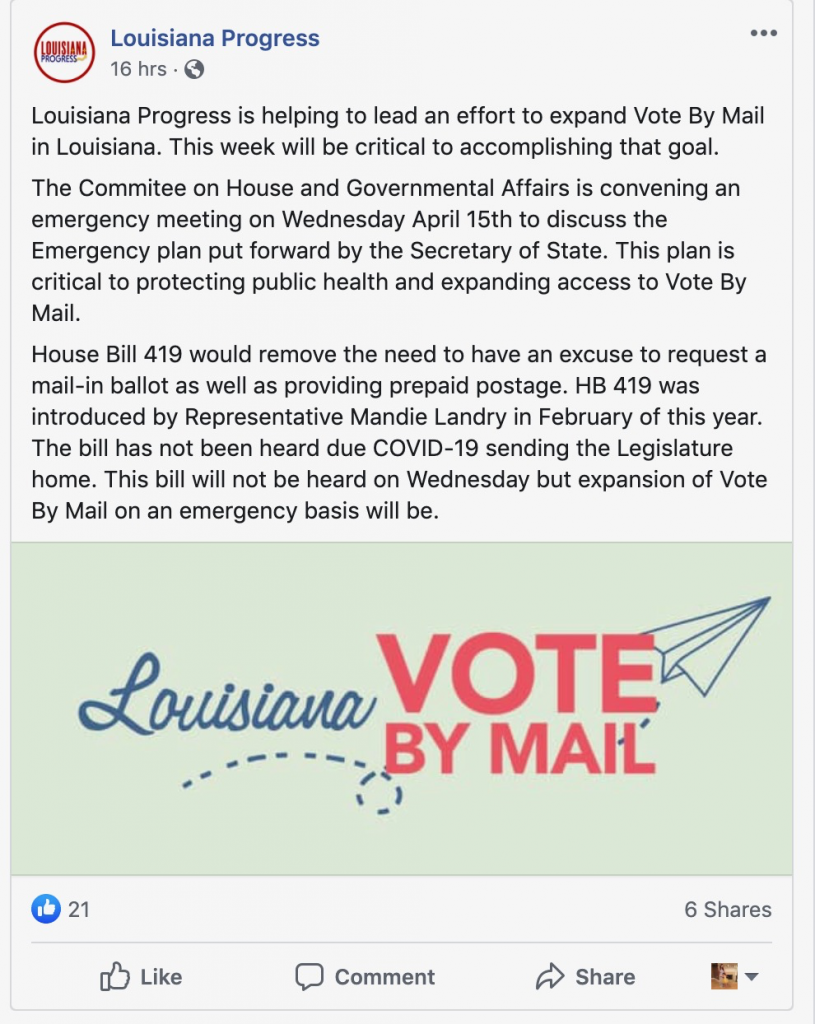 Here are current rules for voting by mail
More info:
Vote by mail supported by Michelle Obama
Heritage Foundation: why vote by mail is a bad idea
NCSL Pros and Cons of mail in voting
More problems with mail in voting